Home » Mather + Platt » Origins

A LONG TRADITION OF ENTREPRENEURSHIP AND INNOVATION
The origins of Mather and Platt date back to 1817 when Peter Mather, a visionary and an entrepreneur, saw emerging opportunities in textile machinery manufacture during the Industrial Revolution in Manchester. In 1845, the Mather family joined with John Platt at Salford Iron Works to serve the expanding business of textile finishing machines.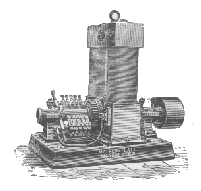 Early steam engines were included in the company's catalogue of products followed by further diversification into the manufacture of earth-boring and artesian well equipment, water purification plants, reciprocating pumps and centrifugal pumps. In the 1870's, the invention of the Edison-Hopkinson dynamo was announced, and in the UK Professor Osborne Reynolds developed an original design of centrifugal pump. The Company immediately recognised the vast potential of these inventions and acquired rights to develop and manufacture them.
In the 1880's the Company made the world's first turbine-type, multistage centrifugal pump and the first electric generator with a calculated output. In the same decade, the Company also became well-known in Europe for the development and application of Grinnell automatic sprinkler and fire alarm systems.
Mather and Platt attended the Manchester Exhibition in 1887 and displayed many of its products including the the Edison-Hopkinson Dynamo, the Manchester Dynamo, electric railway plant, high speed engines, pumping and winding engines and machinery for the textile industry.
The beginning of the twentieth century saw vigorous development of pumps, textile, fire engineering and electrical businesses. The quest for innovation led to the development of power station pumps, large electric motors, Mulsifire protection systems, machinery for food processing and preservation, special materials such as Duplex stainless steel, pumps and fire protection systems for offshore oil platforms, electronic fire and smoke detection systems.