Home » Mather + Platt » Pumps
Centrifugal pumps
Mather and Platt manufactured a range of centrifugal, mixed- and axial-flow pumps for the water, sewage, oil and chemical industries.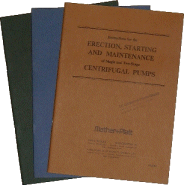 An important part of the pump business was pump installation and commissioning. This could be done by the company or by the customer's own fitters and engineers. A range of publications was produced that explained how to install, commission, start and maintain the wide variety of M&P pumps and pump-sets.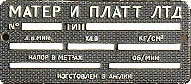 The export of pumps and motors was a major part of the rotating machines business. The painted cast brass pump nameplate shown here is testimony to the business in Russia. It's interesting to note that many export nameplates were made of brass, even if they were going to be overpainted, while those for equipment destined for the UK market were of aluminium.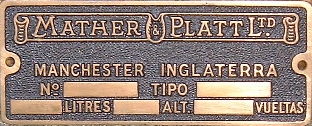 Another brass plate is shown here: this time using an earlier version of the Mather and Platt logo and varnished brass. This plate was for the Spanish market.