Home » Mather + Platt » Apprentices
Apprentices
The company ran two apprentice schemes;
Craft Apprentices who were trained in manufacturing skills for a career on the shop-floor and
Special Apprentices who were destined for a degree in some engineering discipline and who would have a role in engineering design and management.
Special Apprentices were commonly known as Specials, amongst other things, and were taken directly from school with A Levels and a place on an engineering course at university. Mather and Platt preferred a four-year thin sandwich course (six months at work, six months at Salford University) because the periods of study and work were even but accepted 1-3-1 thick sandwich arrangements too. Specials on a thick sandwich course were expected to attend work for at least six weeks during the summer vacation. Apprentice intake at M+P was in September each year, much to the annoyance of the apprentices who, had they gone to university instead, would not have started until October. However, the group in my year was about 8 and I have some memorable recollections.
Some Specials made the grave mistake of introducing themselves, as such, to shop floor workers who habitually replied with "What's so *@!&ing special about you then?"
Specials attended a week's induction course when they first started work, followed by a rigorous programme of on-the-job training in many of the company's manufacturing and design departments. The work experience was well structured with the various departments visited in a logical order. An example was a project to make a machine vice; this involved time in the drawing office to produce the engineering drawings, followed by the pattern shop where patterns for the castings were made. Then followed a period in the foundry where the moulds were produced and castings made. The final period was in the machine shop where the castings were machined and the remaining parts of the vice were made and heat-treated before final assembly. How many apprentices receive this type of experience today?
Each year, Sir William Mather invited the Specials to his home at Whirley Hall near Macclesfield for a barbecue at the Trout Pool.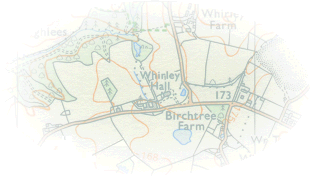 This was an evening where directors, managers and Specials could get together and meet. The Trout Pool was a large depression in the ground with high sides at one edge where the more adventurous could use a rope swing to launch themselves into the pool. Other social events included croquet at John Gill's Bowdon home near Altrincham and outdoor pursuit events in North Wales or the Lake District.
The Specials also arranged a series of site visits where they could see Mather and Platt products in use. Favourite venues included various water pumping and treatment works at Windermere and Ullswater in Cumbria, Heinz in Wigan, Shell Chemicals at Carrington, John Summers steelworks (now Corus Colors) at Shotton, British Sidac (now Innovia Films), Strangeways Brewery and Wilson's Brewery etc. Many of these had more than one type of product installed - most had at least pumps and fire protection systems.
Many new employees stayed at the YMCA's Montgomery House next to Alexandra Park in South Manchester. This was a convenient, if rather austere, place to stay whilst finding more permanent accommodation. MoHo, as it was colloquially called, had its own sport centre with squash courts, weight-training room, football and cricket pitches, etc. It also had a bar where hot food was also available. Typical beers of the period were Wilsons Great Northern Bitter and Watneys Red Barrel. The Wilsons Brewery was, coincidentally, only about a ¼ mile from Park Works on the other side of the A62 Oldham Road. Misty autumn mornings held the pungent smell of hops and the brewery was frequently shrouded in steam. Sadly, Wilsons is now closed and demolished, though it managed to celebrate its 150th anniversary in 1984. The site is now a rather unremarkable business park.