Home » Mather + Platt » Apprentices » Training School
Training School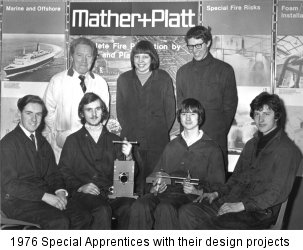 All apprentices, whether Craft or Special, passed through the Practical Training School (PTW) where basic engineering drawing skills and practical engineering workshop skills were taught.
My year's apprentices were split into two groups and given design and make projects. My group were to design and make an adjustable mitre block for an existing circular saw; the other group designed and made a pipe vice.
Both projects involved using a variety of machine tools and processes: lathe, milling machine, shaper, heat-treatment. The final objects are shown here, together with the apprentices - I am bottom row, left.
Here is a closer picture of the mitre block. It was machined out of solid steel bar and was heavy. The brass scale was a nice feature except that the numbers were stamped on it after it had been cut to size and the stamping distorted it somewhat.


Next department: Drawing Office